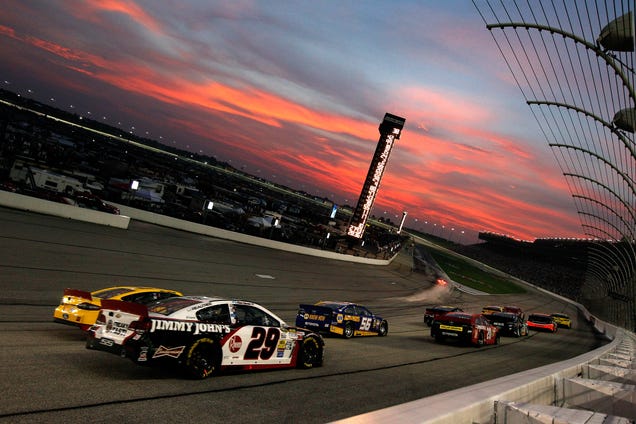 The "multi-zone tread" tire will make a return to the race track after setting records at Atlanta Motor Speedway. The multi-zone tread technology that can be found on passenger cars will guide one driver to Victory Lane during Sunday's Hollywood Casino 400, the fourth race in the Chase for the NASCAR Sprint Cup (2 p.m. ET on ESPN, Motor Racing Network Radio and SiriusXM Satellite Radio). But what's the difference between this tire and regular weekend race tire?
Goodyear developed two zones on the right side tires: the outer zone dubbed the "traction zone" – which was made of a sticky and more grip-oriented compound – and the "inner zone" – also known as the "endurance zone" – which was built with a firmer compound to help prolong the tire life.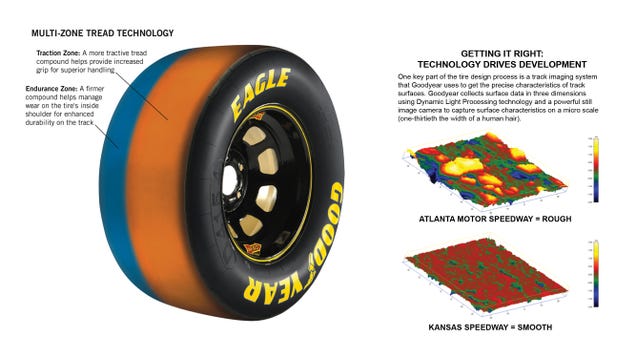 Goodyear's multi-zone tread tire debuted at Atlanta Motor Speedway last month, resulting in shattered passing records. Throughout the 500-mile event, there were 3,748 green flag passes – 190 more than the old record, and 1,200 more than last year's figure.
Key to the development of the multi-zone tread tire is a track imaging system that Goodyear uses to get the precise characteristics of track surfaces. Goodyear employs an optical device that collects surface data in three dimensions using Dynamic Light Processing technology and a powerful still image camera to capture surface characteristics on a micro scale (one-thirtieth the width of a human hair). Software gathers the raw data, analyzes it and produces a scaled image of the track surface using color graphics.
At Atlanta, the new tire's durability counterbalanced the rough racing surface. At Kansas Speedway, which repaved its racing surface last year, the "multi-zone tread" tire's design will add grip to combat the new, slick surface. So now you know, and knowing is half the battle.